Monthly evangelistic paper «Forgotten Altar»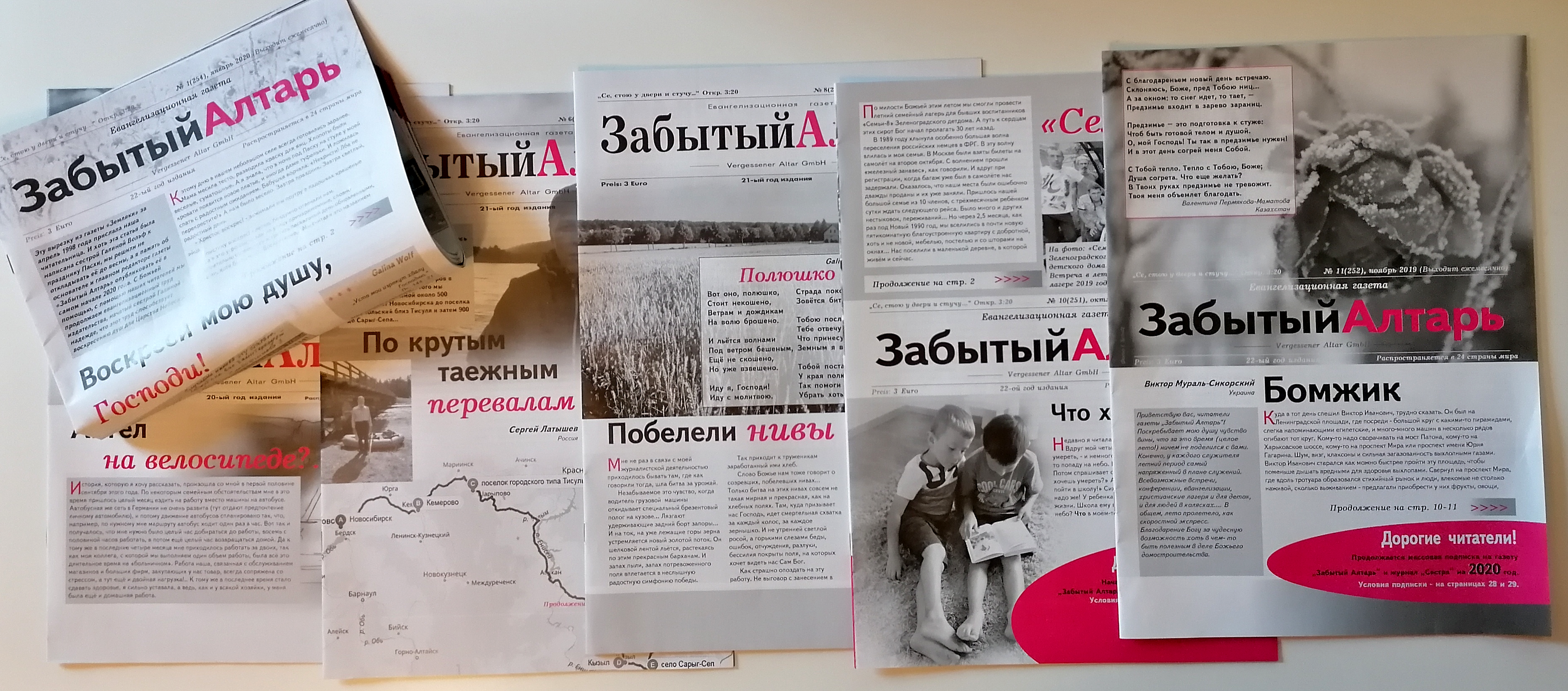 1 paper issue - in Germany for free →
Just tell us your address!
"Forgotten Altar" is a Christian newspaper, one of the most famous evangelization newspapers in Russian. It reaches thousands of people in 26 countries and it is made up of their letters. Many of our readers are prisoners who seek God or have converted to Him. They are in the most horrific prisons in the world (such as the infamous "Black Dolphin"). Others are Christians who survived the terrible repression in the Soviet Union and the Soviet concentration camps for their faith. Others are modern educated theologians, preachers, ministers and pastors. For 20 years their amazing testimonies and stories, incredible memories, heartfelt poems, simple and profound articles and sermons have touched the hearts of a wide variety of people - believers and non-believers, young and old, rich and poor, living in comfortable homes and behind barbed wire.
The newspaper is published monthly on 32 glossy pages.
Among other things, it includes a unique series of short stories, a Christian news page, as well as two large sections:
"The key to the trap" - about the fate of those who ended up in prison.

"On the eve" - about Israel and for Israel.
Order your subscription for yourself or simply give someone a subscription online!!
You can register and pay for a subscription from any month to 12 months in advance directly on the site.
1) In the section "SUBSCRIBE NOW!" select a subscription for a suitable country or charity subscription and click "ADD TO CART".

2) Click "PROCEED TO CHECKOUT" in the window that appears. Or you can "Continue shopping" and return later by clicking the icon  (at the top).
First "Sing In":
- Already registered? Enter your e-mail and password, then click "login".
- Not registered? Click "Create an account" and enter the necessary data. It is required only once - now you can always log in with the specified e-mail and password.
- Don't want to register? Simply enter the necessary data in the section "NEW CUSTOMER (GUEST CHECKOUT)".
And place your order in 3 easy steps:
"RECIPIENT ADDRESS" - a newspaper will come here. 
"PAYER'S ADDRESS - if you are signing someone, give your address.
You can also leave a message for us here.

And press , then enter the payment data, following the instructions on the screen.
For payment worldwide:
Additionally for payment in Germany:
Payment by bank transfer (Zahlung per Rechnung/per Überweisung) 

Direct debit (Lastschrift)
Subscribe or sign a friend by mail, phone or e-mail in 2 simple steps!
1) Transfer 35€ (annual subscription in Germany) or 40€ (other countries) to our account:
Vergessener Altar
IBAN: DE12 440 100 460 752 868 463
BIC: PBNKDEFF
Postbank NL
2) Tell us the address where to send the newspaper. We will start sending it from the month following the subscription.
 

info@vergessener-altar.de

 |  +49 5409 / 9892580 (from 9 a.m. to 1 p.m. on workdays).
 for your letters, requests, testimonies, stories, articles, etc.: Vergessener Altar GmbH, Postfach 1134, 49192 Bad Laer, Germany
(If your material is in digital form, please send it to our email).