Christian magazine for women "Sister"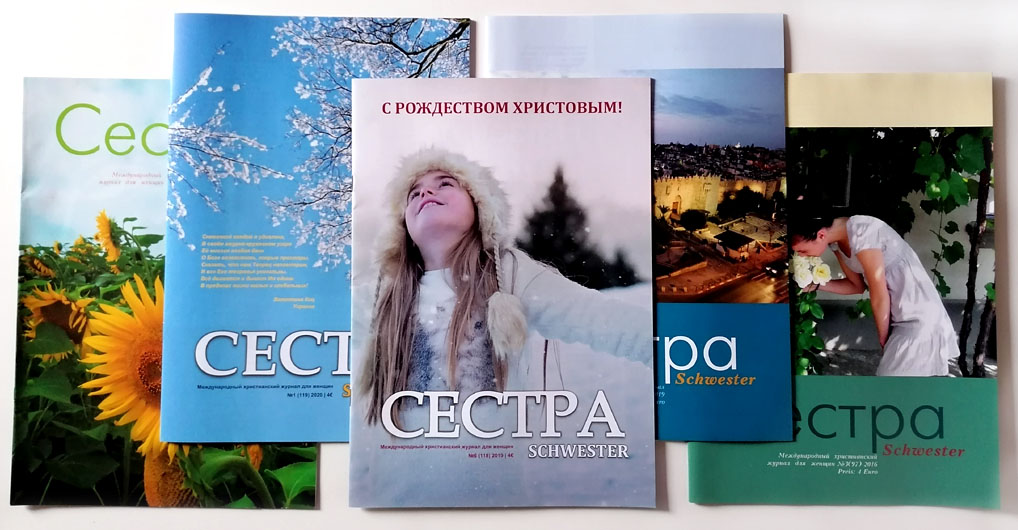 1 magazine issue - in Germany for free →
Just tell us your address!
Christian magazine "Sister" is one of the very few Russian-speaking Christian magazines for women. It has been published for 20 years. It is published 6 times a year (every two months) on 32 glossy colored pages. It consists of letters of readers and readers from 22 countries. You will find in every issue interesting articles, amazing testimonies and life stories, deep reflections on life with God, poems, Christian news, recipes and much more!
Subscribe or sign a friend to the Christian women's magazine "Sister"!
Order your subscription for yourself or simply give someone a subscription online!!
You can register and pay for a subscription from any month to 12 months in advance directly on the site.
1) In the section "SUBSCRIBE NOW!" select a subscription for a suitable country or charity subscription and click "ADD TO CART".

2) Click "PROCEED TO CHECKOUT" in the window that appears. Or you can "Continue shopping" and return later by clicking the icon  (at the top).
First "Sing In":
- Already registered? Enter your e-mail and password, then click "login".
- Not registered? Click "Create an account" and enter the necessary data. It is required only once - now you can always log in with the specified e-mail and password.
- Don't want to register? Simply enter the necessary data in the section "NEW CUSTOMER (GUEST CHECKOUT)".
And place your order in 3 easy steps:
"RECIPIENT ADDRESS" - a newspaper will come here. 
"PAYER'S ADDRESS - if you are signing someone, give your address.
You can also leave a message for us here.

And press , then enter the payment data, following the instructions on the screen.
For payment worldwide:
Additionally for payment in Germany:
Payment by bank transfer (Zahlung per Rechnung/per Überweisung) 

Direct debit (Lastschrift)
Subscribe or sign a friend by mail, phone or e-mail in 2 simple steps!
1) Transfer 35€ (annual subscription in Germany) or 40€ (other countries) to our account:
Vergessener Altar
IBAN: DE12 440 100 460 752 868 463
BIC: PBNKDEFF
Postbank NL
2) Tell us the address where to send the newspaper. We will start sending it from the month following the subscription.
 

info@vergessener-altar.de

 |  +49 5409 / 9892580 (from 9 a.m. to 1 p.m. on workdays).
 for your letters, requests, testimonies, stories, articles, etc.: Vergessener Altar GmbH, Postfach 1134, 49192 Bad Laer, Germany
(If your material is in digital form, please send it to our email).